40 Winks is a 3D action platformer for the PlayStation, released in 1999. A Nintendo 64 version was to be released that same year but was cancelled, despite it being almost complete and ready to be shipped.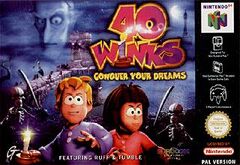 A near-final build was dumped onto the internet by gorgyrip on January 29, 2008 on The ASSEMbler Forums.
Nitekap, a magician of some kind, kidnaps all the Winks, which are responsible for good dreams. Siblings Ruff and Tumble must collect the last 40 Winks in the world before all the good dreams become nightmares.
Why It Was Cancelled
Edit
GT Interactive were not impressed by the PlayStation release's sales, so they cancelled the game.
However, by the time they had cancelled it the major Nintendo magazines had reviewed the game. This led to rumours that the game was released somewhere somehow. which is not the case.